Enterprise Data Centres
Server Solutions
Your server room holds your business' most valuable data and applications that determine future business success. To protect these vital resources, we provide comprehensive solutions including but not limited to:
disaster recovery
fault tolerance
load balancing
enterprise storage
Our professionals provide a start to finish support and cutting edge expertise to configure, procure, install and maintain your server room technology. Our structured cabling experts can design and provide all of the necessary components to make your data servers and peripheral equipment maximize your space, flexibility and security.
Remote Access and Control
Jay Kay Systems Consulting Inc.® has a range of flexible and secure solutions for remote access and control. Our professionals will help you choose a solution that gives you anytime, anywhere remote access to your servers and other IT equipment for maintenance, administration, troubleshooting and even re-booting.
UPS (Uninterruptable Power Supply)
We offer power protection solutions for businesses which are designed for networking equipment and data centres, including entry-level to high performance storage, switches and servers. In the event of a power shortage or outage, your data will be protected.
Data Backup Storage Solutions
Incremental backups to multiple backup sets is the key to complete data security. You will have significant cost savings, higher productivity, simplicity for end users and a secure computing foundation.
Data backup can save you from:
unintentional file deletion
hard disc failure
virus attacks
computer theft
natural disaster
Equipment
Our experts can help you choose the proper server rack/cabinet (also known as LAN racks, computer racks, relay racks and network racks) for your server room to maximize space and provide a safe and stable platform for your equipment. Mounting all of your computer and network equipment in a customized server rack makes sense in the same way as centralizing all your server equipment to a single room.
Data Centre Cooling and HVAC
Fan products are used to minimize air mixing, distribute cool air to equipment and remove heat from the rack or room. Precision floor-mount and portable air conditioning solutions offer environmental control at the room level. Heat removal solutions are designed to meet the diverse requirements of the data center and surrounding environment.
Storage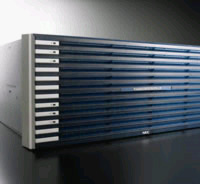 SAN
A Storage Area Network (SAN) is a networking topology that interconnects and uses multiple storage devices and servers via a dedicated network. Our storage products are designed to be deployed easily in any SAN environment, providing hardware and software that compliments and enhances the SAN and give users the option to tailor a SAN infrastructure that meets their needs.
NAS
Network Attached Storage (NAS) provides the technology to interconnect servers and storage devices such as disks, tapes and optical disks at up to gigabit speeds without impacting file server performance or adding additional management burden on the network. Since storage is separated from the servers, multiple hosts can share access to devices on the LAN.
SDS
Software Defined Storage (SDS) provides policy-based provisioning and management of data storage independent of the underlying hardware. Software-defined storage typically includes a form of storage virtualization to separate the storage hardware from the software that manages it. The software enabling a software-defined storage environment may also provide policy management for features such as data deduplication, replication, thin provisioning, snapshots and backup.
Archiving and Backup
We offer Local, Cloud, and Hybrid solutions as well as traditional Tape Backup.
Providing upto last eleven (11) months plus last thirty days backup.
Hyperconverged Infrastructure
Hyperconverged Platforms