Enterprise Data Centres
Server Solutions
Your server room holds your business' most valuable data and applications that determine future business success. To protect these vital resources, we provide comprehensive solutions including but not limited to:
disaster recovery
fault tolerance
load balancing
enterprise storage
Our professionals provide a start to finish support and cutting edge expertise to configure, procure, install and maintain your server room technology. Our structured cabling experts can design and provide all of the necessary components to make your data servers and peripheral equipment maximize your space, flexibility and security.
Remote Access and Control
Jay Kay Systems Consulting Inc.® has a range of flexible and secure solutions for remote access and control. Our professionals will help you choose a solution that gives you anytime, anywhere remote access to your servers and other IT equipment for maintenance, administration, troubleshooting and even re-booting.
UPS (Uninterruptable Power Supply)
We offer power protection solutions for businesses which are designed for networking equipment and data centres, including entry-level to high performance storage, switches and servers. In the event of a power shortage or outage, your data will be protected.
Data Backup Storage Solutions
Incremental backups to multiple backup sets is the key to complete data security. You will have significant cost savings, higher productivity, simplicity for end users and a secure computing foundation.
Data backup can save you from:
unintentional file deletion
hard disc failure
virus attacks
computer theft
natural disaster
Equipment
Our experts can help you choose the proper server rack/cabinet (also known as LAN racks, computer racks, relay racks and network racks) for your server room to maximize space and provide a safe and stable platform for your equipment. Mounting all of your computer and network equipment in a customized server rack makes sense in the same way as centralizing all your server equipment to a single room.
Data Centre Cooling and HVAC
Fan products are used to minimize air mixing, distribute cool air to equipment and remove heat from the rack or room. Precision floor-mount and portable air conditioning solutions offer environmental control at the room level. Heat removal solutions are designed to meet the diverse requirements of the data center and surrounding environment.
Storage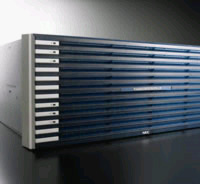 SAN
A Storage Area Network (SAN) is a networking topology that interconnects and uses multiple storage devices and servers via a dedicated network. Our storage products are designed to be deployed easily in any SAN environment, providing hardware and software that compliments and enhances the SAN and give users the option to tailor a SAN infrastructure that meets their needs.
NAS
Network Attached Storage (NAS) provides the technology to interconnect servers and storage devices such as disks, tapes and optical disks at up to gigabit speeds without impacting file server performance or adding additional management burden on the network. Since storage is separated from the servers, multiple hosts can share access to devices on the LAN.
SDS
Software Defined Storage (SDS) provides policy-based provisioning and management of data storage independent of the underlying hardware. Software-defined storage typically includes a form of storage virtualization to separate the storage hardware from the software that manages it. The software enabling a software-defined storage environment may also provide policy management for features such as data deduplication, replication, thin provisioning, snapshots and backup.
Archiving and Backup
We offer Local, Cloud, and Hybrid solutions as well as traditional Tape Backup.
Providing upto last eleven (11) months plus last thirty days backup.
Hyperconverged Infrastructure
HC3: The Hyperconverged Platform
Scale Computing's HC3 platform was built from the ground up for virtualization environments. HC3 uses efficiency and scale concepts similar to those used by Amazon and Google. HC3 delivers a fully integrated platform that includes server, storage, and virtualization, all in one appliance. The appliance is optimized with our patented Ultra-Easy HyperCore Software™. The Ultra-Easy HyperCore Software continuously monitors all virtual machines, software and hardware components to detect and automatically respond to common infrastructure events, maintain application availability and simplify datacenter management. You no longer make the tradeoff of performance vs. cost. This is what the industry is calling Hyperconvergence. The HC3 is the industry's leading hyperconverged data center appliance. HC3 delivers simplicity, availability and scalability all in one appliance.
Businesses can no longer afford to sit on legacy infrastructure to run business applications, but are still forced to do more with less. Virtualization is the first step in building your infrastructure for today and tomorrow. HC3 delivers simplicity, availability and scalability all in one.
Simple. All You Need In One Box. No Complexity
With HC3, you get:
HC3 OneTouch™ Provisioning

- in a matter of minutes, you have all the resources provisioned to have your environment up and running.

HC3 OneTouch™ Configuration

- Rapidly configure your resources to match your applications using our automated, easy to use web portal.

HC3 OneTouch™ Deployment

- Once you've provisioned and configured, just set the thresholds your business needs, and HC3 does the rest for you.
In addition, you have:
No additional software license

- HC3 builds in all the software intelligence of the hypervisor and automated management so you don't have to deal with overbloated licensing features.

No additional hardware

- HC3's integrated appliance eliminates the need for separate SAN/NAS or servers so you don't have to manage separately anymore.

No storage protocols

- HC3 was designed to abstract the complexity of storage. We integrate the complexity of storage protocols so you no longer have to worry about them.
Available. Your Applications. Simply Available.
HC3 Protect™

- All of the benefits of RAID 10, plus more, including protection against disk and node failures, rebuilds in minutes instead of hours, and automatic 2 sets of copies.

HC3 VM Failover™

- if a node fails, HC3 automatically determines where there is capacity, and moves VMs to those nodes.

HC3 High Availability

- all VMs have integrated high availability, so you no longer have to worry about downtime.
Scalable. Grow On Demand. When You Need It.
Pay as you scale

- you no longer have to overprovision capacity for what you don't know. If you need more, simply add more nodes.

Dynamic VM allocation

- HC3 intelligently identifies where there is capacity and allocates VMs to those nodes, eliminating the guessing game for you. It eliminates underutilization of resources.

Automated management

- HC3 is built with automation in mind, to eliminate the need for server and storage specialists. Our automated capabilities optimize your resources for a more efficient, scalable virtualization environment.
All of this, at a fraction of the cost of VMware and other traditional virtualization vendors.