Storage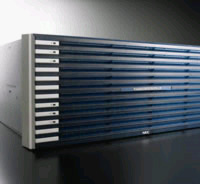 SAN
A Storage Area Network (SAN) is a networking topology that interconnects and uses multiple storage devices and servers via a dedicated network. Our storage products are designed to be deployed easily in any SAN environment, providing hardware and software that compliments and enhances the SAN and give users the option to tailor a SAN infrastructure that meets their needs.
NAS
Network Attached Storage (NAS) provides the technology to interconnect servers and storage devices such as disks, tapes and optical disks at up to gigabit speeds without impacting file server performance or adding additional management burden on the network. Since storage is separated from the servers, multiple hosts can share access to devices on the LAN.
SDS
Software Defined Storage (SDS) provides policy-based provisioning and management of data storage independent of the underlying hardware. Software-defined storage typically includes a form of storage virtualization to separate the storage hardware from the software that manages it. The software enabling a software-defined storage environment may also provide policy management for features such as data deduplication, replication, thin provisioning, snapshots and backup.
Archiving and Backup
We offer Local, Cloud, and Hybrid solutions as well as traditional Tape Backup.
Providing upto last eleven (11) months plus last thirty days backup.